First...let's all say Happy Birthday to Robinnnnnn! Love ya girlie. You make Rakscraps such an awesome place to be!
Used Birthday Doodles and font is Santa's Sleigh Full
Hi all. Yes...I am back again, lol. Soooooo much has been going on...I cannot even begin to tell you...but you know me. I certainly will do my best, hahahah.
So...why have I been missing this time??? Well...if you remember...my dh was having problems with me wanting to jump on the computer as soon as dinner was done (on the days he actually got in before bedtime). He did not like that I was spending no time with him....watching t.v. hahah. So...we had a few battles and have been trying to work things out...reach some type of compromise.
Well...then something just awful happened! I was letting the kiddos watch some cartoons in the playroom while I ran into my room (where my computer is at) to type up some rosters for school (I am V.P on the Parent Board at my son's preschool). I was in there less than 10mins. I walk out and this is what I am greeted with. My two year old had taken his stool to the kitchen, climbed on to the counter, opened the cupboard, took down the container with all of my meds, and was sitting amid my spilled medication going "yuck" and spitting. There was at least one open capsule with wet teeth marks on it and the granules all over. I asked him calmly if he ate them...he replied in the affirmative. I ran outside to get hubby (who was working in his office) and then I FREAKED out. I hate to admit it....just freaked out. Brandon wanted to call poison control (which I was fine with untill he got disconnected and then it seemed like forever before they answered again. I wanted to go to the emergency room (10mins away) RIGHT NOWWWWWWWWWWWWWWWWWWWWWWWWW!!! I was crying and yelling at him...so not pretty. I pulled it together and we got to the hospital. They put all these heart monitors on him and got the throw up meds in him. Two hours later he was fine. They basically just observed him since the meds he ingested wouldn't do too much to him (we figured he didn't eat but maybe 1 or 2 after counting them). Long story, but I have never ever ever been so scared in my life. EVER.
And it happened while I was on the computer! arghhhhhhhhhhhhhhh
So...I haven't been quite the same since. For days after I couldn't let him out of my sight. I couldn't get on the computer. I really thing I had some post traumatic stress stuff going on. People were telling me to just get over it...he was fine. But IIIIIIII wasn't fine.
So....that was that.
Two of my girls came over on Monday for BBQ. Jen and I went through all of the baby stuff I am giving them.
Tues I took the boys to Jen and Aaron's new place (my daughter who is having the baby and her fiance). We brought her a little rose and a card and took her to lunch.
And yesterday Chase had his last day of school party....that was fun!!! We had a snowcone machine, a bounce house, sprinklers, water tables and lots of fooooood!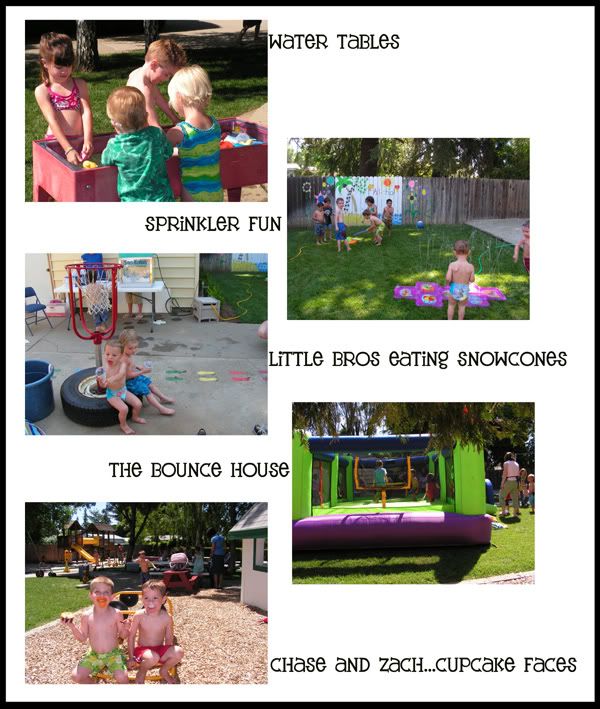 Their "graduation" is Saturday night. And then we are done for awhile, lol. I was so sad.....was going to miss the preschool. I really have loved it there. Hayden won't be old enough to go there. So I said I would work for pay next year. We are a co-op so the parents act as teachers aides. We work about 3 days a month. If you cannot work and no one can trade with you, you can pay a work-for-pay $20 to do it for you. And they will let me bring Hayden when I do that.
So...on the scrappig front...thought I would do a couple things...first is to give away another freebie....I am making an add-on to my
Birthday Doodle kit
...and will give a way some pieces of it...in four parts. If you grab a piece...leave a comment...each time I will pick someone who will win the full kit. And two people will win both the first kit and the add-on
Here is the preview of the entire blog bonus (will be given out in four parts)
Download the first part (1 paper and element) here
(remember to comment--include your email address--for chances to win. If you want...you can email me at tmblankenship@gmail.com with your email addy if you don't feel comfy leaving it. I promise only to email you if you won...no ads, lol) Check back for the second part soon.
Secondly...I run several sketch challenges. I also want to start a sketch portion for the old blog. Would you like to see your sketch featured here and/or for a challenge? Would you like to win a little something something? Then email me your sketch (tmblankenship@gmail.com). I will be picking some winners soon.
There are only a couple more days left of my
May element challenge
at Rakscraps...June's will start on the Fourth.
The second sketch is up at Digital Freebies for part two of my
Double Trouble Sketch Challenge.
Hope you all have a fabulous Thursday!!!