Fist off....Congrats Pat M!!!! You won the Birthday Doodle Kit (picked from the comments to the first part by my son) woohoooo!!! I will email the link to you.
It is Saturdayyyyy! I got to sleep innnnnn! I never ever ever ever get up later than 7a...usually it 6:15a. I got to sleep untill 8:30a today....can you believeittititititi????? Now...I am shipping the boys and the husband out to Grandpa's and I get to scrap! For a little bit anyway, lol. Today is Chase's Graduation, so my family is coming up this afternoon.
Here are the pics from the end of the year at school. I cannot believe a) how grown up he looks and b)how goofy boys are....check out some of the smiles in the group photo. The one with the crazy goofy smile two over from Chase...that is Gunner. He is the class clown. For mother's day they asked each child what they loved most about their moms. He said that she could fart really good. I laughed so hard!!!
Speaking of my kiddo graduating...growing up....thought I would share some thoughts about some issues I am having. My children are my everything. When they were born, I finally felt like my life's plan had come to fruition. I like the saying I saw on a greeting card: "Having children is a lot like having your heart walk outside of your body." That is how I feel.
Their whole lives I have been battling myself...letting them do things for themselves, letting them run full speed while worrying that they will fall, letting daddy teach Chase to jump from a moving swing (the latest in stunts that makes me crazy), letting them pick out their own clothes, letting them cook with out helping to make it go faster or cleaner etc. I deal with my fear, with my impatience, with my wanting their clothes to match. I battle my desire to always protect them and my pride at what well adjusted young people they are.
They are growing so fast...way too fast. I fear that they will one day not need me. I worry that they (being boys) will turn to their dad more than me....that I will one day be replaced. I know these are normal fears. I know that we do what we can. Just thought I would share.
So...before I go scrap (woohooo) thought I would share some layouts I have done:
my oldest stepdaughter with her daddy: used Miss Mint's(peppermint creative)Strawberry Picnic kit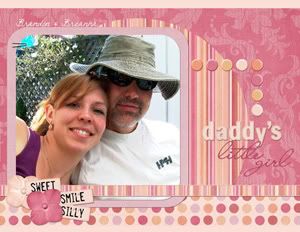 And her are my little monkeys after Hayden was born...used Miss Mint's Denim Ink kit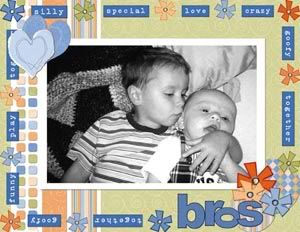 Also...time to grap part two of my Birthday Doodle Kit bonus
Download the second part (1 paper and element) here
(remember to comment--include your email address--for chances to win--one person today will get the Full Bday doodle kit. You also have a chance to win both that kit and the finished add on. Even if you commented w/email last time, you can still try this time. If you want...you can email me at tmblankenship@gmail.com with your email addy if you don't feel comfy leaving it. I promise only to email you if you won...no ads, lol) Check back for the third part soon.