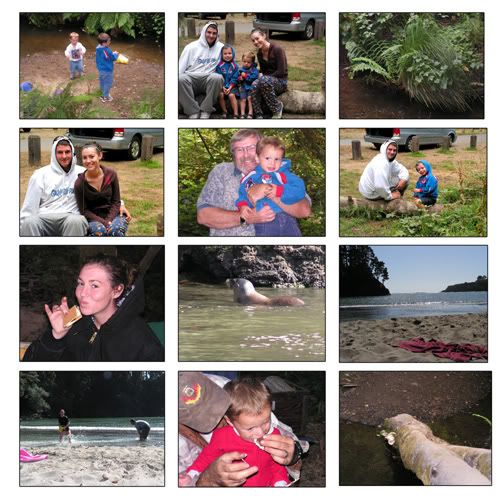 So...we are home from our camping trip to Fort Bragg, CA...but I don't know about the sound part, hehehehe.
The camping went well. I really liked Kristen's boyfriend. The weather was cool to cold...we got to see the beach, the ocean (Hayden calls it the BIG POOL), a seal or two playing in the cove, the lighthouse that is being redone and will be turned into a
b and b
...can't wait for that...and they are doing such a greattttt job on it! Just gorgeous. I would love to have a house like this.
We saw some marine exhibits, did some hiking (not really, but the boys though so), made s'mores, and just had a great time. Brandon did some abalone diving and so he was happy.
The boys and I had to come home Wed, but bran and the kids stayed till today. Let me tell you...that drive home was NOTTTTTTTT fun. It took me 5 HOURSSSSSSSS. YIKES. With NOTTTT happy children! sigh.
Then, I bathed them for hours and hours (not really...but wow were they DIRTY) and we all got in our pjs and turned on cartoons and ate in bed. Then fell asleep in each other's arms! hahah.
Next day we went to our friend Tyler's 6th bday party...at the bowling alley! It wasss sooooo funnnnnn! They all had a blast and wore us out completely! Hayden had a hard time focusing, though. The arcade had a BATMANNNNN car!!!! and he is soooooo infatuated with Batman. So....it was tough to keep him out of there after he got bored with the whole bowling thing. Pizza and cake followed....then home to rest.
Then today we went to school to drop off Chase's paperwork and to the park....watched Tyler for a bit. Talked with another parent which was nice...always nice to have some adult interaction.
Can I just say...I am tireeedddddd!!! lol
So!!!!!! I mustttttt tackle 27 loads of laundry, find my kitchen, clean the fridge, find something to cook for dinner, solve the problems of the world etc. hehehehe
I also thought how nice it would be to take the sweet grandson kit and turn it pink for those who don't have little boys like me,lol.
I will be passing this out in a couple diff parts. also..a couple things. Leave a comment if you grab it please. Don't get the links somewhere else...come here and read about my boring life, lol.
Download here
Also...a gal I know is starting a new yahoo group.
NEW GROUP READY TO LAUNCH IN ABOUT 10 DAYS!! COME JOIN!!
Addicted to DIGITAL SCRAPBOOKING, and buying kits huh? ... Well hang out here to pamper your addiction, and we'll tell you what's fresh in DIGITAL this week! The best Digital Designers post their new stuff to Digital Scrapbook Galleria each week, with links showing where to buy.
That saves you the effort of wading through lots of sites!
So if you love fresh kits, or you're a designer who creates em' - come join the party! This is not a site to share layouts, it's a site to share links to fresh new kits, and for designers to show us their wares! :)
This is not a forum as such. You email me your links and pics, and I send out an email once a week to members showcasing all the goodies! It's free, so why not sign up today!
Go here and check it out
.
Also...I was asked how much longer to get your name in for my team...either for guest spots and/or for permanent. Ummm...how bout till the 27th? Ok? ok! email me at tmblankenship@gmail.com....would love to have you. (all will get a chance to be a guest ct...and get two free kits!!)
Ok...off and running. hugs
**If you're not living life on the edge you're taking up too much space.